The Metlink Airport Express will have ten new purpose-built, fully electric buses running for customers between the Wellington Railway Station and airport approximately every 10-20 minutes.
This premium service is provided by Metlink  and operated by our partner Mana Newlands Coaches by Transdev.
The Airport Express is an integral part of the Metlink network, connecting the airport with the wider Wellington Region.
This low-cost, environmentally conscious service is targeted at tourists but also for staff working in and around the airport and other commuters on-route, if capacity allows.
Transdev Australasia Chief Executive Luke Agati said he was delighted those connections were now extended to the airport by an environmentally friendly fleet.
"We're proud to run a fully-electric bus service in Wellington, complementing our EV fleets around the globe, all of which contribute to our goal of enabling zero emission transport," Mr Agati said.
"This new Airport service is part of Transdev's ongoing global commitment to help connect communities and shape cities through more sustainable transport.
"Now the borders are open, Transdev is pleased we're helping enable Wellington's economic growth and its ongoing tourism opportunities.
"We have a great team at Mana Newlands who I know will run a reliable and efficient service with great customer service."
Mr Agati said he was proud Transdev was partnering with Metlink and the Greater Wellington Transport Committee as part of its New Zealand footprint.
"Transdev is at the forefront of transport sustainability with more than 61 per cent of our fleet running on clean energy and more than 2000 electric buses globally," Mr Agati said.
"We're serious about moving the world forward sustainably via our people, ongoing innovation and operational excellence."
Mana Newlands Chief Executive Craig Chin said he was proud his team was providing such a crucial new service.
"This is really much needed and welcomed in terms of offering an environmentally friendly, low-cost travel option to such a key tourism and work hub for Wellington," Mr Chin said.
"With cost of living rising, the Airport Express is the best & most convenient way to get to the airport.
"My team is looking forward to welcoming everyone on board."
Find out more about the Airport Express at metlink.org.nz/airport-express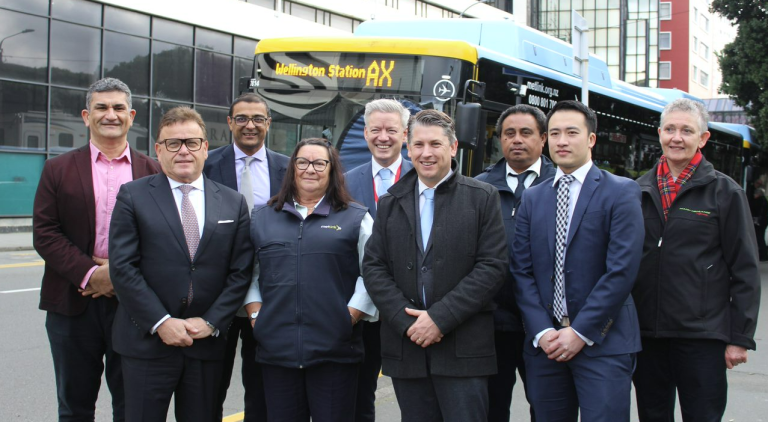 Our CEO Luke Agati (second from left) and Mana Newlands CEO, Craig Chin (second from right) pictured at the launch event.
Airport Express Service
Airport Express buses run between Wellington Station, City Centre, Kilbirnie and the Airport.