Partner on regular train lines
Transdev works with local transit authorities to provide bus services that can transit between rail stations during off-peak and after hours periods. Replacement bus services can be more cost effective and environmentally sustainable than operating heavy rail services when there is lower passenger demand.
We can provide a total solutions, including fleet, scheduling, Operations, maintenance and planning to help seamlessly integrate into existing networks and timetabling. 
Alternative during construction works
During periods of construction work, we support rail companies by offering assistance to travelers through a scheduled road route.
Our expertise allows us to align the proposed level of service with the habitual rail way offer, thanks to an optimisation of our road transport plan. We provide a high quality service that minimises any disruption to passengers during construction. 
Helping Sydney Metro - Station Link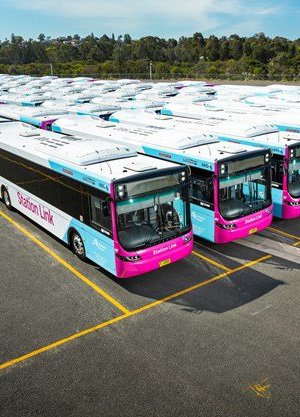 Transdev was to be part of the team delivering one of Australia's largest transport projects, Sydney Metro.
Working with the local transit authority and our joint venture partner CDC Hillbus, the Station Link service helped more than 20,00 customers travel between Epping and Chatswood, from September 2018 to May 2019.  Station Link was a 'turn up and go' bus service on seven designated routes.
Ahead of its commencement, 124 brand new, fully-accessible, air-conditioned pink buses were delivered to service this project. Over 220 bus drivers were recruited and trained to join Sydney's public transport industry.
More than 10% of feedback of customer feedback about Station Link was complimentary – a significant feat for a rail replacement service.
Support in case of unexpected events
In cases of unforeseeable events (strikes or accidents), we offer road transport substitution solutions.
The key to this service lies in our responsiveness, in order to ensure optimal substitution transport. 
Our goal is to work with transport partners to continuously accelerate and guarantee the mobilisation of resources in the shortest possible time.