Customised transport solutions
Travellers today call for door-to-door mobility solutions that are reliable, comfortable and personalised.
This is particularly the case for journeys to and from airports which are considerably more pleasant for passengers when they don't have to worry about how and when they are going to get to their destination.
We have designed optimal solutions to meet all of these daily mobility needs.
Premium chauffeur-driven cars
Used by families, and people travelling on business and in small groups, chauffeur-driven cars are now part of the daily mobility landscape. The quality of services, however, varies: our premium chauffeur-driven car solutions provide round-the-clock services that are both simple and reliable. This is the case in the USA where we have established particularly strong footholds, and in the major states in Europe. Overall, we provide chauffeur-driven car services in around 80 cities world-wide.
Our US subsidiary, ExecuCar, has a fleet of sedan cars and sports utility vehicles (SUV) that can be reserved for whatever reason (families, groups, business trips) and offer a round-the-clock chauffeur service to drive passengers to wherever they want to go.


Taxis: indispensable and essential
In cities around the world, the taxi is THE mobility solution for all. We have developed this transport activity in all of our regional markets: in the USA (in Kansas City, Tampa, and Baltimore) and in Europe, where we are the undisputed leader in the Netherlands via our widely-known Dutch subsidiary, Connexion.
We believe the taxi is a major mode of transport that facilitates mobility for everybody.
We have focused on transport solutions for the disabled and have developed zTrip, a universal application for users to manage their taxis as they want (for immediate booking or deferred reservation).
Shared shuttles: excellence and quality of service
26 years ago, we came up with the shared-shuttle concept to provide inter-airport connection services.
These state-of-the-art, chauffeur-driven vehicles pick up and drop off passengers at their boarding gates.
The SuperShuttle service can be reserved with a mobile app, and offers fully transparent all-inclusive tariffs. In the USA, our Golden Touch shuttle-services subsidiary offers a competitive premium mobility solution to the three New York airports. We have also implemented a tracking system to optimise journeys in real time.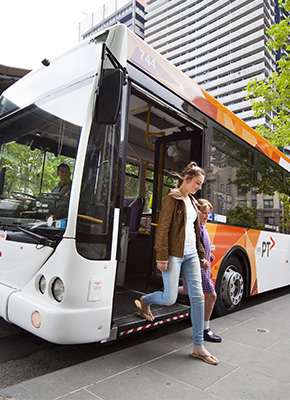 Short-distance coaches: competitive pricing
Regarding customised transport to airport solutions, the coach transport segment offers extremely flexible services with a passenger home pick-up option. Since reservations can be booked by mobile app, it is in the interest of coach service operators to offer extremely competitive prices and quality services that ensure passenger comfort. Our Swedish subsidiary, Flygbussarna, is an emblematic example of our expertise in this area.