One fleet, 9 vessel classes
We operate the iconic Sydney Ferries fleet, with 9 different classes of vessels, covering 38 wharves over ten key routes.
Freshwater class
The Freshwater class of ferries operate the Manly ferry service and are the oldest continually serving vessels in the fleet.
They are named after beautiful beaches in the Northern Beaches area of Sydney. The fleet of four Freshwater class ferries are:
Freshwater
Collaroy
Narrabeen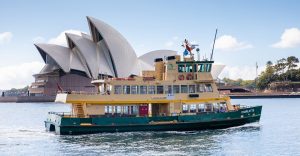 First Fleet class
The First Fleet Class are a Sydney Ferries icon. The fleet consists of nine catamaran ferries delivered between 1984 and 1986. The vessels were named after ships of the First Fleet:
Borrowdale
Fishburn
Scarborough
Supply
Friendship
Alexander
Charlotte
Golden Grove
Sirius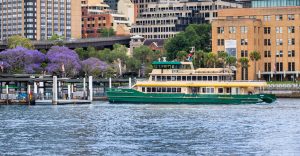 Emerald class
The Emerald Class Ferries entered service during 2017. They are named after leading figures in Australian and Aboriginal history in the fields of literature, medicine, politics and exploration:
Catherine Hamlin
Fred Hollows
Victor Chang
Pemulwuy
Bungaree
May Gibbs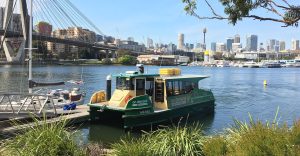 MiniCat class
The MiniCat vessel is a small catamaran built in 2019 to operate the new On-Demand ferry trial service. The name of the vessel, Me-Mel, comes from the Aboriginal name for Goat Island.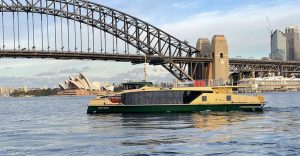 RiverClass
The new addition to the Sydney Ferries fleet, the ten new River Class arrived in Sydney in February 2021 from Newcastle. All the vessels have been named in honour of notable people who left a mark in NSW's culture, including three authors, three artists, and four athletes. The vessels have floor to ceiling windows, level boarding access, audible and visual announcements, hearing loops, priority seating for the elderly and mobility impaired customers, and wheelchair facilities. They are designed for conditions along the Parramatta River but will also serve customers right across the ferry network.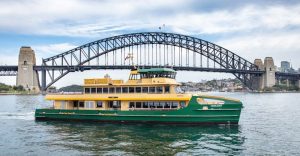 Emerald Gen 2
The new addition to the Sydney Ferries fleet, the three new Emerald Gen 2 arrived in Sydney in late July 2021 from Port Macquarie. These vessels have been purpose built to operate the Manly to Circular Quay route, with a reinforced hull able to handle Sydney Heads swells. They are also fully accessible, significantly reduce carbon emissions and will allow for more weekly services to be added to this busy route to better suit the needs of customers.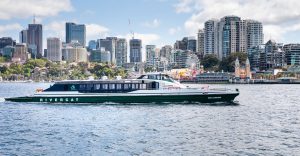 RiverCat class
The RiverCats are a class of catamarans built between 1992 and 1995 and they operate the Parramatta River services. All seven were named after famous Australian female athletes:
Marjorie Jackson
Evonne Goolagong
Dawn Fraser
Nicole Livingstone
Betty Cuthbert
Marlene Mathews
Shane Gould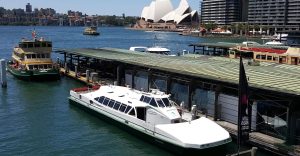 HarbourCat class
The HarbourCats are a class of catamarans built in 1998. They operate the Parramatta River services and Inner Harbour services. Like the RiverCats, they are named after famous Australian female athletes:
Anne Sargeant
Pam Burridge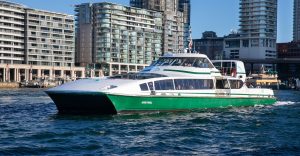 SuperCat class
The SuperCat vessels are a class of catamarans build between 2000 and 2001. The names of these ferries were chosen by winners of public competitions:
Susie O'Neill
Louise Sauvage
SuperCat 4