Transdev Australasia CEO Luke Agati said the bus would be 100% powered by sustainable solar energy, with the company installing a new Green Mobility Megawall, comprising of 10 Tesla Power Walls, and Solar network at its Capalaba Depot in Brisbane.
"Averaging more than 280 days of sunshine per year, Queensland well and truly lives up to its reputation as the Sunshine State, and we are excited to be bringing this clean, green, modern vehicle to Brisbane and the Redlands," Mr Agati said.
"Globally, Transdev is a leader in zero-emissions mobility, and work is underway to introduce new fleet and innovations to Australia and New Zealand over the coming months.
"Research, testing and design for our future zero-emissions fleet will be led from our newly opened Maintenance and Engineering Centre of Excellence, also based at our Capalaba Depot."
Member for Capalaba Don Brown toured Transdev's Capalaba Depot today and said the new e-bus would help to power Queensland's e-mobility industry and support jobs.
"Not only will the new vehicle be powered by the more than 159,000 kWh of local sunshine collected on-site each year, but it will be Queensland research and experience that will shape the design and introduction of new zero-emission fleet, both here in Queensland, and elsewhere across the country," Mr Brown said.
"Global economies have been hard-hit by COVID-19, and both Australia and Queensland have not been immune.

"Queensland's ongoing health response means we can continue our plan for economy recovery, which means creating jobs on major transport projects like new, more energy-efficient buses, our $371 million smart ticketing system and the Eastern Transitway.

"The Palaszczuk Government is committed to collaborating with industry on the transition to electric vehicles and infrastructure and services, and Transdev's decision to lead it's e-mobility operations from Queensland is a recognition of the expertise and innovation that we have here in the Sunshine State."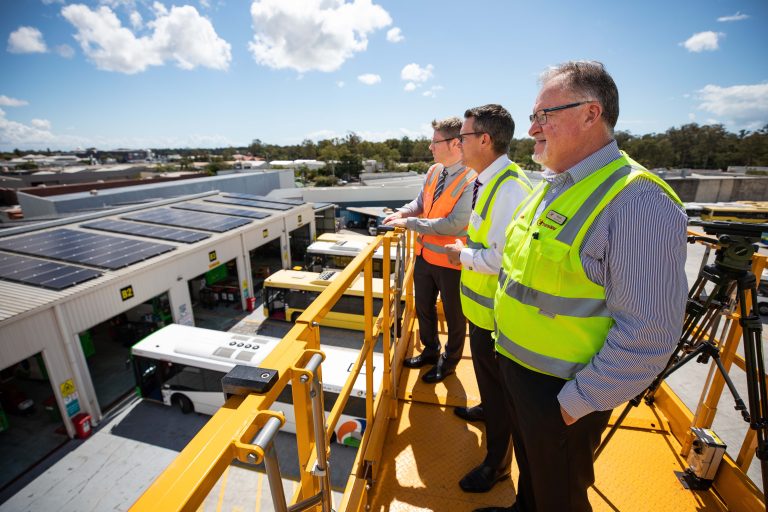 • Route testing will occur for 2 years – to identify suitable routes (based on geography, stopping pattern, etc) for optimal energy efficiency
• Capacity for 61 passengers – 39 sitting, 22 standing
• Up to 300 kilometre range per charge (operating under normal conditions)
• 348 kW size battery
• Battery fully charged in under 5 hours
• Enhanced passenger comfort – reduced noise, USB charging ports and electric ramp
• Customised digital signage and on-board display
• Volgren Optimus body integrated with BYD e-bus chassis
• 250 solar panels capturing up to 159,000 kWh of power per year – average of 438kW per day
• Green Megawall consists of 10 individual Tesla Power Wall units
• Total storage capacity 135kWh
Media queries

Martin Stern
Head of Group Communications, CSR and Ethics
+61 429 709 730
Contact mail
Fields marked with an asterisk are required.