More customers are turning to on-demand transport options as a means of getting around.
We are at the forefront of delivering 'On Demand' transport solutions around the world, from first-mile and last-mile connections, through to point-to-point services for the public transport market.
On-demand transport bridges the gap for passengers between major transport infrastructure, activity hubs, and private transport. It can also be used for inter-campus travel and to get around major locations, such as airports, hospitals, university campuses, stadia, or exhibition centres.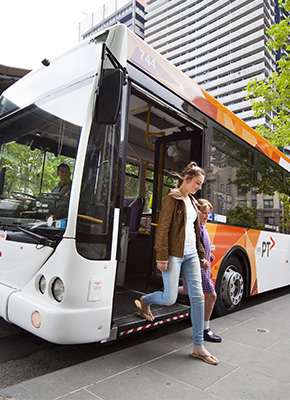 Transdev are proud to be leading the way in piloting future on-demand transport options across the Australasia region.
We are actively working with local authorities to deliver: 
on-demand shuttle bus services
autonomous shuttle services 
ferry on-demand services
Contact mail
Fields marked with an asterisk are required.


Piloting on-demand in NSW
Transdev recently operated two trials with our public Transport for NSW to deliver on-demand bus services in Sydney. 
The two trials, in Sutherland Shire and Sydney's Eastern suburbs, offered passengers with flexible mini-bus transport on-demand. The pilot allowed passengers who lived in areas that were traditionally hard to service by public transport to order a mini-bus service either by phone, online, or via an app. 
The solution included: 
Custom-built website
Purpose-built app
10 Mercedes-Benz Sprinter Minibus: featuring free WiFi, USB charging points, electric doors, privacy glass
10 and 15 minute guaranteed journey time
Opportunity to book between 1 hour or a month ahead
More than 60,000 customers used the services during the pilot period, with an average star rating of 4.89. 
As a global leader in mobility, we pioneered the first on-demand shuttle services over 25 years ago, coming up with the shared-shuttle concept to provide inter-airport connection services – SuperShuttle. 
The SuperShuttle operates in more than 60 cities across the United States as well as other international destinations including Kuala Lumpur, London, Seoul, and Paris.  These state-of-the-art, chauffeur-driven vehicles pick up and drop off passengers at their boarding gates.
Our popular on-demand services can reserved with a mobile app, and offers fully transparent all-inclusive tariffs.
Our US subsidiary, ExecuCar, has a fleet of sedan cars and sports utility vehicles (SUV) that can be reserved for whatever reason (families, groups, business trips) and offer a round-the-clock chauffeur service to drive passengers to wherever they want to go.