The analysis suggests that Australians are looking for more businesses and organisations to take an active role in societal issues, such as climate change, workforce reskilling and social injustice.
Transdev Australasia's Chief Safety and Assurance Officer, Huw Bridges, said the findings were consistent with the growing expectations in the transport sector, both from customers and employees.
"To be a successful mobility provider in 2022 you need to offer more than simply services that operate on time. There is an expectation that you offer a safe and inclusive environment, and that you lead on issues such as inequality, education and environment," Mr Bridges said.
"Initiatives like our Driver-training and Mentoring Program, Car to Bus Licence Upgrade Program, and our commitment to cut our emissions by 30% by 2030 sets Transdev apart from traditional operators.
"Through our Reconciliation Action Plan, we're focussed on engaging more First Nations people in our operations and have tripled the number of First Nations suppliers we work with in three years."
Across Transdev's operations globally, there are strict ethical guidelines and policies that are stringently governed through the Group's Ethics and Compliance Management System.
Head of Group Communications, CSR and Ethics, Martin Stern, said protecting human rights, preventing corruption both real and perceived, and providing transparency were key to the company's culture.  
"We are essentially a team of people serving people, and to do that effectively you need to be honest in your interactions and operate in a non-partisan or prejudiced way."
Martin Stern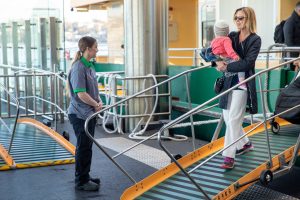 "How we work with our stakeholders, and in particular our suppliers, is also vitally important, and we're not only holding ourselves to account but also our partners and we're working together to deliver the best possible outcomes for the community."
"Whether that be ensuring safeguards are in place to ensure ethical practices, aligning ambitions, or leveraging common sustainability outcomes."
You can find information and more details on Transdev's ethical governance and policies, at https://www.transdev.com/en/about-us/ethics-and-compliance/.